The school shooting in Parkland, Florida, that claimed 17 lives has provoked an eruption of impassioned calls for action against gun violence from young survivors, community leaders and law enforcement, as the suspect was reported to have confessed to carrying out one of the worst massacres in modern American history.
Nikolas Cruz, 19, told interrogating officers of the Broward County sheriff's office that he "began shooting students that he saw in the hallways and on school grounds", according to an official report obtained by the Associated Press. The teenager went on to say that he brought additional magazines to Marjory Stoneman Douglas high school "and kept them hidden in a backpack until he got on campus to begin his assault".
News of Cruz's alleged confession came as local officials lined up to express their determination that something must be done to stem the bloodletting in US schools and other public places. The shooting ranked among the 10 deadliest gun rampages in the country, three of which have happened in the past four months.
"The violence has to stop. We cannot lose another child in this country to violence in a school," said Florida's governor, Rick Scott, promising to meet state lawmakers to search for solutions on mental illness and gun control. The sheriff in charge of Broward County, Scott Israel, called the event a "horrific, horrific day" and urged the public to do more to report suspicions: "Don't think about calling us – call us," he said.
The official in charge of public schools in Broward County, which includes Marjory Stoneman Douglas high school, the scene of Wednesday's tragedy, said: "Now, now is the time for this country to have a real conversation on sensible gun control laws."
But amid the anguished cries for action rising up from Florida, a national tone was set by Donald Trump that was largely devoid of a sense of urgency. In a televised "address to the nation" made in part directly to the children of America – "you are never alone", he said – the president gave no concrete indications of steps to prevent repetitions of Wednesday's disaster.
Trump said he would visit Parkland, and stage in coming weeks a meeting of governors from around the country to discuss school safety. But he warned against early measures: "It is not enough to take actions that make us feel we are making a difference. We must actually make that difference," he said.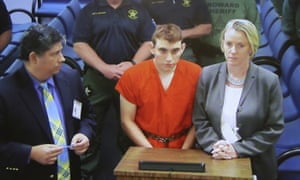 The suspected shooter, Nikolas Cruz, 19, made his first appearance in court on Thursday, charged with 17 counts of premeditated murder. Dressed in an orange jumpsuit, with his hands cuffed at his waist, Cruz listened silently as the judge ordered that he remain in custody without bond.
Before the court hearing, details emerged of potential warning signs that had been missed in advance of the massacre.
The FBI disclosed that they had been informed last September that a YouTube user going under the name Nikolas Cruz had expressed a desire to become a "professional school shooter".
FBI special agent Rob Lasky said data reviews had been carried out but the bureau "could not further identify the person who made the comment".
The shooting started at about 2.40pm on Wednesday, shortly before Stoneman Douglas broke for the day. The gunman entered the compound of about 3,000 students meticulously equipped and prepared, with gas mask and smoke grenades and quantities of ammunition sufficient to move around the three storeys of the building, leaving a trail of devastation behind him.
Pamela Bondi, Florida's attorney general, described the terrible job of having to inform families of the deceased. "Many of them had siblings in the school who survived, and a brother or a sister did not, so that was extremely tragic," she said.
Video footage captured by students recorded long bursts of gunfire of about 40 discharges accompanied by screaming as students cowered under tables and hid in closets. According to the Broward County sheriff's report, Cruz told interrogating officers that he had thrown off his AR-15 rifle and armored vest as students began to flee the building so that he could blend in with the crowd and escape; he was caught about an hour later walking along a sidewalk.
Survivors' accounts also recorded acts of extraordinary courage, including reportsof a football coach, Aaron Feis, who jumped in front of the gunman to shield his pupils from the bullets.
"When he was tragically, inhumanely killed, he did it protecting others," said Sheriff Israel after Feis's death was confirmed.
There were also accounts of exceptional bravery from students. Colton Haab, 17, pulled 90 fellow pupils from the hallway into a classroom after the shooting started and barricaded the door with synthetic sheets as gunshots rang outside. "I knew if he broke the window he was coming in the room, and if he was coming in that room I was going to stop him with everything I had or die trying," he said.
Twelve people died inside the school, two outside and another on the street. A further two people died in hospital, and 14 were injured. Medical staff said on Thursday that of the injured, five had been released and seven remained in critical condition.
Parkland, a well-to-do suburb of Fort Lauderdale, has now entered that most mournful ledger of American towns that have had carnage wrought upon their schools. It will forever be tagged with Columbine, the Colorado high school where 12 students and a teacher were killed in 1999, and Sandy Hook, scene of the mowing down of 20 young children and six adults in 2012.
What Parkland appears unlikely to become associated with, given the present state of the nation, is any search for a solution at federal level. A day after the tragedy, signs of any meaningful debate within Congress were scant at best.
"We need to pray", and "we need to take a breath and collect the facts", were the responses given by Paul Ryan, Republican speaker of the House of Representatives, when asked how the nation's lawmakers would react.
Jeff Sessions, the US attorney general, delivered more pointed words to a conference of sheriffs, saying "we have got to confront the problem. This situation cannot continue." But aside from a promise to "study the intersection of mental health and criminality", he avoided references to specific policy changes.
Anger and frustration began to explode, however, among those touched most intimately by the calamity. A pupil named Sarah at Stoneman Douglas responded to Trump's tweeted condolences by lashing out in her own tweet: "I don't want your condolences – multiple of my fellow classmates are dead. Do something instead of sending prayers."
Small groups of students assembled on Thursday morning on the roadway outside Stoneman Douglas, still processing the loss of friends and classmates killed in the attack. Kaleb Martinez, 16, a junior year student was inside the school when the shooting occurred but had left the freshman building where the shooter is said to have opened fire just 10 minutes before the massacre began.
"I'm just blessed to be here today," he said, adding he had seen through social media that two of his friends were reportedly killed.
"This is the best, definitely the best time to be talking about cutting out guns." Matinez said. "People who have guns, that needs to go, that needs to stop. This is crazy. No family should have to worry about sending their kids to school and if they're going to come home or not. It's a terrible feeling."
Any debate about how to respond to gun violence is likely to be informed by details unfolding about the Parkland shooter. Questions are now being asked about how a teenager known widely in his community as a "troubled kid", who had received sporadic treatment for mental health problems and was expelled from Stoneman Douglas school for violence, had an obsession with firearms and delighted in shooting animals could so easily buy a semi-automatic AR-15 rifle of the sort that has been at the centre of so many previous rampages.
Despite this litany, and despite being too young to buy beer, Cruz was able legally to purchase an AR-15 about a year ago, according to a law enforcement official cited by Associated Press – federal law in the US allows anyone over 18 to buy a rifle given limited background checks.
Another pressing question was how an individual whose last known employment was working in a low-paying dollar store could afford multiple rounds of ammunition, enough to sustain prolonged bursts of firepower. In his Instagram and other social media feeds, Cruz had posted images of at least six guns spread across his bed with the caption "arsenal" and a box of bullets that he noted "cost me $30".